PROSPECTIVE STUDENTS
Think degree program
Courses offered at YWAM Bases in Zambia are stand alone certificate courses that can be included in some degree modules of the University of the Nations. To maximize the benefits of your study, consider pursuing a degree program by electing related courses on a degree plan.
Associates of Arts degrees in Counseling and Church Ministries  are possible by using the combination of courses already offered by YWAM Livingstone. Associate's degrees in Biblical Studies, Mass Communications and Christian Ministries can also be completed by combining our courses with modules offered by our sister ministries in the region.
how do I do this?
Students must apply for a place in a program offered by YWAM Livingstone, Zambia. Every YWAM and University of the Nations program requires Discipleship Training School completion.

Each student will receive an acceptance letter addressed to him or her if the application checks out and the necessary nonrefundable application fee has been paid. We will be looking for proof of good standing with each referee and with the student's minister or previous YWAM Leader. NB: The application fee is US$70 per international applicant.

If a student's application checks out, that student will receive a letter of acceptance addressed to him or herself and a Letter of Invitation addressed to an Immigration Officer. The Student must Hand the letter of Invitation to the Immigration Officer on duty at the port of entry. MAKE SURE THE WRITING IN YOUR STAMP SAYS "BV30D"!

Every student must bring along certified (notarized) copies of flight itinerary ITINERARY, a BANK STATEMENT, Academic certificates, and Tuberculosis Clearance Certificate (X-ray report by a GOVERNMENT RADIOLOGIST that is under 10 days old) to support his or her application for a study permit. In case one comes from a Yellow Fever endemic country, the student may need a valid Yellow Fever card to enter Zambia.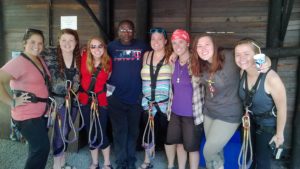 Students need a Temporary Employment Permit to study a course that is under 120 days but longer than the 30-day Business Visa period.

NOTE THAT VISITORS ON BUSINESS VISAS CANNOT RE-ENTER ZAMBIA ON ANOTHER 30-DAY VISA UNTIL AFTER A 30-DAY ABSENCE!

A study permit is very convenient because it can be issued by the Regional Office right here in Livingstone. Work Permits are cleared in Lusaka. The study permit is usually two years unless limited by the student's choice of courses duration.
VISIT THE IMMIGRATION WEBSITE FOR CURRENT PRICES ON ZAMBIAN VISAS AND PERMITS (CHARITIES AND CHURCHES PAY ABOUT 50% LESS)
https://www.zambiaimmigration.gov.zm/index.php/menu-styles/types-of-visas-and-the-applicable-fees
FOR YOUR CONVENIENCE, APPLY FOR AN ONLINE VISA FOLLOWING THIS LINK!
https://evisa.zambiaimmigration.gov.zm/#/